Read this page in your language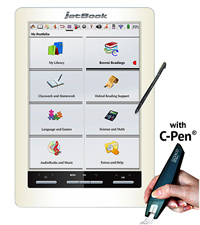 ECTACO jetBook Color 2 Deluxe with New Triton 2 color E Ink screen
Price: $599.95
Unlike a regular color LCD screen, the Triton 2 E Ink is eye-friendly and does not cause irritation.
It's a healthy-reading screen!
CES 2012 Innovation Award Winner Ectaco jetBook Color on Fox News
Welcome to the world of jetbook Color, Deluxe!
The latest innovations and technology have come together to yield the long awaited jetBook Color, Deluxe edition. With the world's first Triton 2 Color E Ink screen the jetBook Color lets you read anything from textbooks and manuals, to novels and picture books all in color! The original focus was on the education market; helping students to keep track of their schedules, check homework, and eventually replace all paper textbooks. With the success experienced in Eastern Europe, we've decided to release the jetBook Color worldwide so everyone can enjoy an eReading device with tons of functionality and a non-backlit display that's safe on the eyes. The new deluxe version even has text capturing and electronic conversion features; simply slide your C-Pen (included) over print text and watch it upload directly to the jetBook Color. Now go one step further you can translate that text in another language, look up a meaning or even hear it spoken to you! Virtually unlimited format support and endless battery life make the jetBook Color the best device for school work, business documents, leisure reading and everything in between.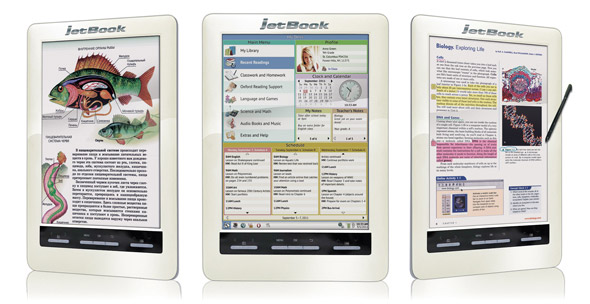 Specifications:
Triton 2 Color E Ink screen
9.7" Display
1600x1200 resolution
C-Pen Text Scanner: 5-22pt text capture, translation and speaking ability.
Load Your Own Content
Support for: Adobe DRM 9.1, ePub, Mobi, PRC, RTF, TXT, PDF, FB2, djvu, JPG, Gif, PNG, BMP (more to come)
Localizations and Language Menus for Russian, Ukrainian, German, Japanese, English, Spanish, Portuguese, Chinese, Czech, French, Italian, Korean, and Polish
Wi-Fi enabled
Line, graphing, staff and other workbook pages
CPen support
Fluent Text-to-Speech can read you any book
Workbook Scribbling and freehand writing on PDFs
Reflow mode in Reader
10,000 page turns on a single charge
Support via microSD for up to 32GB
Sleek protective carrying case included
Underline and highlight text
50-state reading list
Fully interactive SAT course
"Overdrive" library access
Wireless access to online textbooks, www.ck12.org and other resources
Speed Reading course
Translating Dictionaries
Course of English and foreign language grammar
Speech recognition and speech analysis Language Teacher and U-Learn courses that teach you a language step by step
Pictured dictionaries for 38 languages
Cross translator for 180 languages
Vocabulary Builder
Linguistic Crosswords
Reference materials for Math, Physics, Chemistry, Biology, Geography and Earth Science
Interactive Periodic Table of Elements
Graphing and scientific calculators
And much more!
October 2012 update contained the following new additions:
---
Main Changes:
Optimization and speed improvements for most features and programs
New look for Main menu buttons through color enhancements
Added support for Microsoft Word Documents (.Doc)
Added support for zipped FB2 files (FB2 in Zip archive)
Device personalization section allows you to add your name, info and picture
Easier Switching between Wi-Fi access points with a new on-screen button
Addition of font styles for TXT and FB2 books
OK button now will allow you to change the page
Interface language increased to 15
Further Improvements:
Increased stability of the Keyboard Lock feature
Increased stability of DjVu format files
General fixes to the internet library section
Optimization to voice commends for apps and for menu features.
---
This model is available in the following colors: White and Black.
To select the color of your choice, please click on the one you want.
Specifications:
Language
Advanced search
Instant Reverse translation
Spell-checker
Irregular verbs
New word recording
Electronic grammar book
Full sentence translation

Technical
Built-in memory
Display
9.68'', 1600x1200 px, with special stylus
Touchscreen
Screen backlight
Headphones jack
PC connection
AC adapter connection
Battery
Lithium-polymer rechargeable battery: 3.7V, 2350 mAh
Dimensions (WxHxD)
270 x 188 x 11.5 mm
Weight
23.4 oz (662 g)

Clock
World time
Local time
Daily alarm
Reminder
Dictionary
Vocabulary
Voice
English
Speech recognition
English
Text-to-Speech output
English
Idioms
Yes
Commonly used phrases
14,000

Value pack
Bonus & demo software
Slim case
Yes
1-year warranty

Calculator
Math calculator
Scientific Calculator
Loan calculator
Graphing calculator
Currency conversion
Metric conversion

Other features
Games
7
World Factbook
Organizer
Scientific references
Geography, Algebra, Geometry, Trigonometry, Calculus, General Chemistry, Inorganic Chemistry, Organic Chemistry, Physics, Earth Science, Biology
SAT preparation course
eBook Reader
U-Learn™ course
Pictured dictionary
Linguistic crossword
Periodic table of elements